Learn How to Put Your Baby to Sleep Safely — from the CPSC
Visit this link to access the CPSC's homepage, Parents and Caregivers Reminded of Safe Sleep Guidance.
The CPSC's "Back to Basics" public service announcement focuses on three (3) key reminders for safe sleep:
Back to Sleep: Always place the baby to sleep on the baby's back to reduce the risk of sudden unexpected infant death syndrome (SUID/SIDS) and suffocation;
Bare is Best: Always keep the baby's sleep space bare (fitted sheet only) to prevent suffocation. Do not use pillows, padded crib bumpers, quilts or comforters; and
Only place the baby to sleep in a product that is intended for sleep. Transfer the baby to a crib, bassinet, play yard or bedside sleeper if the baby falls asleep in a swing, bouncer, lounger or similar product.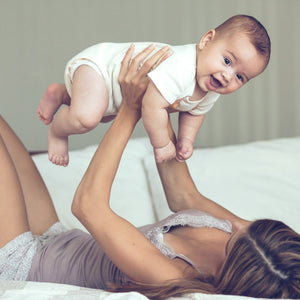 Baby Safety | Back to Basics
Useful Tips to Keep Babies Sleeping Safely — from the CPSC
The CPSC reminds consumers that the safest place for a baby to sleep is a flat, bare surface dedicated to the infant. For more on safe sleep practices, visit the CPSC's homepage for Safe Sleep – Cribs and Infant Products. Also, visit the JPMA's homepage for Crib Safety. Also, click here to view the CPSC's Baby Safety Tips flyer.
From the CPSC:
With any crib, bassinet or play yard, follow a few simple rules to keep babies sleeping safely:
To prevent suffocation, never place pillows or thick quilts in a baby's sleep environment.
Make sure there are no gaps larger than two fingers between the sides of the crib and the mattress.
Proper assembly of cribs is paramount - Follow the instructions provided and make sure that every part is installed correctly. If you are not sure, call the manufacturer for assistance.
Do not use cribs older than ten (10) years or broken or modified cribs. Infants can strangle to death if their bodies pass through gaps between loose components or broken slats while their heads remain entrapped.
Set up play yards properly according to manufacturers' directions. Only use the mattress pad provided with the play yard; do not add extra padding.
Never place a crib near a window with blind, curtain cords or baby monitor cords; babies can strangle on cords.
Useful Links Regarding Crib and Sleep Safety